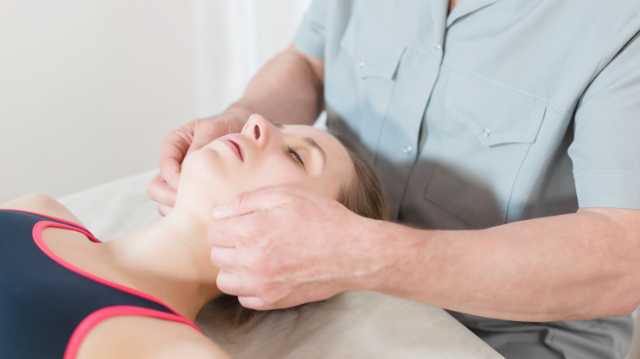 More research is needed that evaluates how effective these treatments are
Temporomandibular disorder (TMD) is a term used to describe a set of common conditions that affect the temporomandibular joint (TMJ). The TMJ connects the jaw to the skull and allows it to move up and down and from side to side. Typical symptoms of TMDs include pain (especially while chewing), difficulty opening the mouth, the jaw getting stuck, and a clicking or popping sound, all of which can have a negative impact on patients' lives. There are a number of available treatments for TMDs, two of which are physical therapy and occlusal splints. Physical therapy usually consists of a variety of interventions that are all intended to reduce pain and improve strength, mobility, coordination, posture, and flexibility. An occlusal splint is a specific type of mouth guard that prevents clenching the jaw and protects the teeth from other harmful habits. While both of these treatments are commonly used for treating TMDs, there is no research that compares the two of them. For this reason, a powerful study called a randomized-controlled trial (RCT) was conducted to determine if physical therapy or wearing a splint is more effective for patients with a TMD.
Both interventions last for six weeks
To conduct the study, researchers recruited patients who were diagnosed with a TMD and screened them using specific criteria to determine if they could participate. From this search, 112 individuals were accepted to the study and randomly assigned to either the physical therapy group or the splint group. The physical therapy treatment program took place during three 15-minute sessions per week for six weeks. During these sessions, a physical therapist led patients through a series of exercises and stretches to relax the jaw. In the relaxed jaw position, for example, patients were told to place their tongue behind their upper front teeth and allow the teeth to come apart in order to relax the jaw muscles. In the splinting group, patients were given an occlusive splint and told to wear it every day for the next six weeks as prescribed by a dentist. Measurements of pain levels and jaw flexibility were taken for all patients at the start of the study and then again at the end of the interventions six weeks later.
Patients with a TMD should see a physical therapist to receive similar treatments
When patients were assessed at the end of the study, it was found that those who followed a course of physical therapy experienced significantly greater improvements compared to those who wore a splint. This was found to be the case for both pain levels and flexibility of the jaw, the two outcomes that were measured. These results suggest that physical therapy provides superior outcomes for patients with a TMD than wearing an occlusal splint. Physical therapy has also been found to be a safe, relatively easy, and inexpensive intervention, which makes it even more attractive. For these reasons, if you currently have a TMD and are bothered by pain, it's recommended that you see a physical therapist. Doing so will get you on the right track and provide you with the treatment needed to manage your symptoms and regain the ability to move your jaw without pain.
-As reported in the September '18 issue of The Journal of Physical Therapy Science